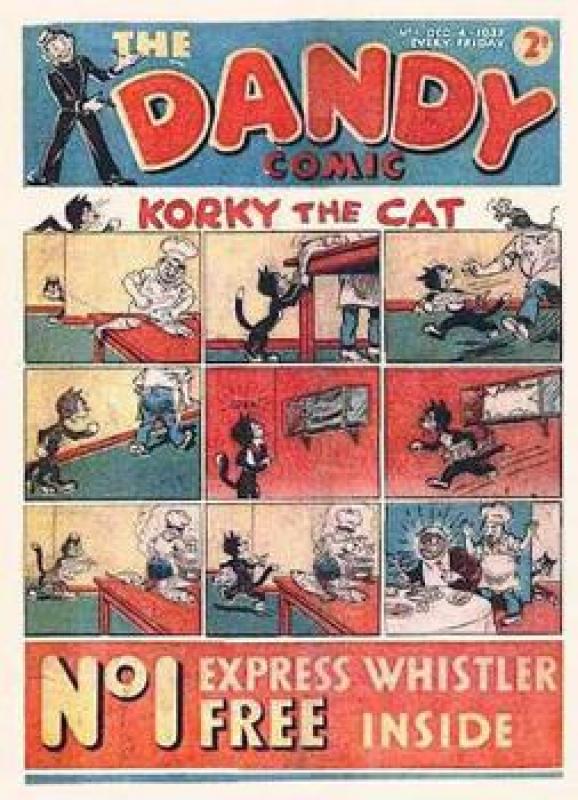 An occasional series.
The comic with the longest continuous run is The Dandy. Published by Scotland's D.C.Thompson it has been going since December 4th 1937.
Initially and for most of it's history a very traditional British comic a new format was  adopted in October 2004 though Desperate Dan, it's most popular character, remained. ( Dan is the world's strongest man, a cowboy whose hometown of Cactusville resembles more an early twentieth century northern town than it does the Wild West ) He also stayed through two more changes. In August 2007 a make over saw it re-titled as Dandy Xtreme. From  28th October 2010  another new format, the comic now returning  to the title Dandy.
A first edition copy of Dandy, complete with free gift, sold at auction for £20,350 in 2004.
My own fondly remembered Dandy from the '40s had Korky the Cat on the front page, Freddy the Fearless Fly, Keyhole Kate, Pansy Potter, Hungry Horace and others inside plus Black Bob among  a variety of adventure strips drawn by Dudley Watkins.
Sources;
- Wikipedia
- scarce comics.com
- pressgazette.com
- Dandy and Beano - The Golden years Volume 11. Publisher D.C. Thompson
- The International Book of Comics. Denis Gifford . Published by Hamlyn