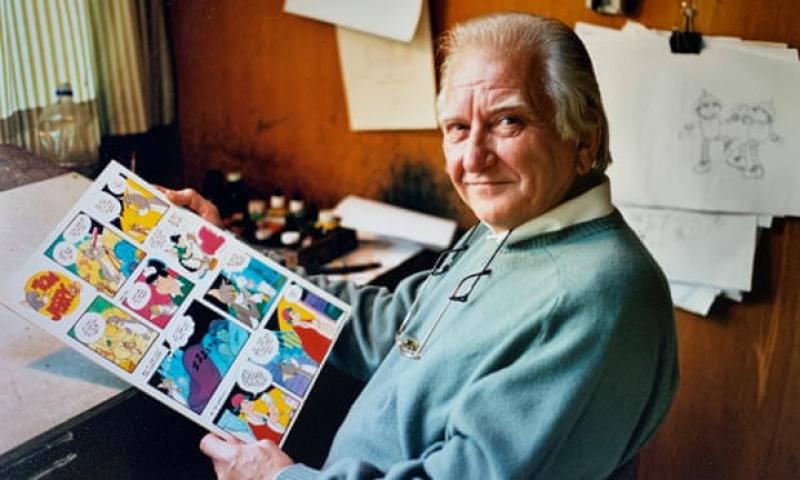 08/05/2021
R.I.P Bill Titcombe
September 1938 – February 2021. 
Cartoonist, illustrator, and painter with a long career in many of Britain's most successful comic books.
I met Bill when I began working on Look-in.
He was an established artist with many credits, characters and titles to his name but made me as new boy feel welcome.
With what I take to be his confidence in his own ability and standing there was no looking down on the newbie or suggestion of competitiveness.
Happen that the fact we were both Essex boys from Romford made us comfortable with each other.
When Look-in folded we stayed in touch. We would phone each other regularly - in part to see how each was doing, in part so Bill could tell me all the latest jokes he had. With a poor memory for jokes I would struggle to find one as repayment.
At some convention or other we teamed up and spent an hour or two drawing caricatures of visitors. Caricatures came naturally to Bill, he could do it because he was gifted. I could do it because of having had  a few drinks. 
Next to last time we spoke earlier this year he told me he had cancer and did not expect to survive it. He seemed remarkably relaxed about it. I would be surprised if he didn't tell me a joke.
Details of his life and career at -
https://www.theguardian.com/books/2021/feb/12/bill-titcombe-obituary
Many images of his work on Google which I did not feel like adding as they are too cheerful.
Hi Arthur,
Sad news this; I'd only recently been reading about Bill online, reassured that he was still with us, sadly no longer. I loved the fluidity of his linework and his great command of likenesses; not surprised you got on so well at Look-In.
All the Best,
Andy. 
Hullo Andy,
it is sad.
Bill was an original and talented artist and a great bloke. 
Much missed.
Best.
Arthur
Add new comment